For those of you who don't know, I am certified in Art Education, and I am currently teaching my second session of Saturday Arts Lab at The University of the Arts starting tomorrow. I teach the "Imagination Discovery" class, which has mostly kindergarteners, some 1st graders, and a smattering of 2nd graders in it. I love the title of this class because it gives me the freedom to make it a little more science-oriented if I want to, which is GREAT! I had a blast last session and I am really looking forward to starting up again this session.
I made this worksheet, which you can download (above). The file is 8.5x11 so it fits on standard copier paper. The reason it says 3d is because with MY kids, we don't mix with paint in this lesson, but instead model magic. You could also use just regular play-dough or whatever. You give your students only red, yellow, and blue clay and then they mix their wheel and glue the (small) pieces of different colors to their wheels. The kids LOVE this assignment because it is very tactile.
It also is a good first assignment because you can learn the kids names quickly  (hence the name at the top of the paper...) and also you can assess their gluing skills!
The words for the colors are also grayed out because I like to practice penmanship by having the students trace the words with the appropriate color marker. Pics to come!
After we do the lesson, I read one of my favorite kids books illustrated and written by Ul de Rico called "The Rainbow Goblins." All of the illustrations are oil paintings and the kids really like them, even though the language is a little advanced (I'd put it more around 4th-5th grade, really.)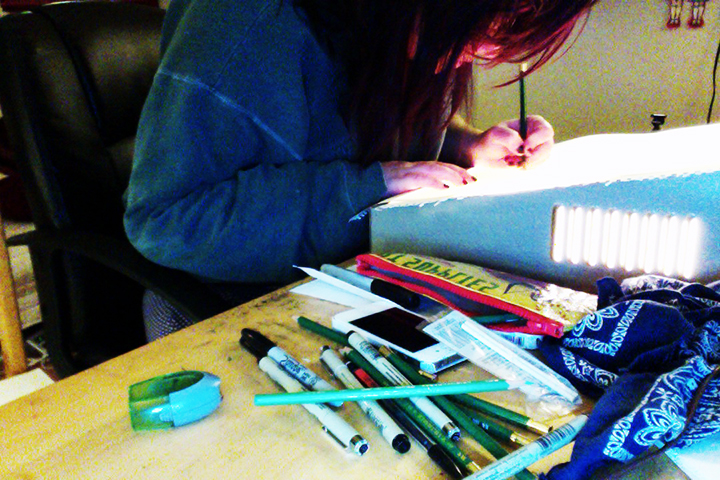 So since my blog is relatively new, I decided to update today to show you guys what I've been working on. After watching the Bill Nye vs. Ken Ham debate I was feeling a little inspired angry enough to begin a piece that I had been thinking about for a couple days. Seriously, check out that link if you haven't watched it already. Go ahead, I'll wait.
Heres my initial idea sketch of the piece, which is about 16 x 16 on Strathmore medium Drawing Paper (my favorite):
After a trace over on the light table you can see how faint my lines are now:
So my next step is to begin to add the texture to the whole piece...which is a surprise! It's not going to look realistic in the end though. I'm trying not to have a concrete idea of where it's going, I don't have a sketch for the texture I'm just going to do it. This is usually how I work...
Also, I saw a post recently from a fellow illustrator who was showing ridiculous reference pics, so here is my submission to the silly pics that are floating around the internet:
So all in all, hope you follow my new(ish) blog, I'll be illustration and Graphic Designing a lot, hope you like what you see! I'll keep it updated on this piece as well.
-KH